ROSS BERBECO, PhD
Dr. Berbeco is the Director of Medical Physics Research at the Brigham and Women's Hospital and Dana-Farber Cancer Institute and an Associate Professor at Harvard Medical School. Originally trained in High-Energy Physics, Dr. Berbeco received Postdoctoral training at the Massachusetts General Hospital and Harvard Medical School under the supervision of Dr. Steve Jiang. Since 2005, Dr. Berbeco has been a faculty member at the BWH/DFCI, receiving ABR certification in 2010. His research interests include real-time motion management, novel imaging devices, 4DPET/CT, nanoparticles as radiation amplifiers, and pre-clinical radiation therapy. To perform this work, Dr. Berbeco has been a primary mentor for over 20 postdoctoral fellows, graduate and undergraduate students with funding provided by Industrial and Federal sources.
Associate Professor, Radiation Oncology | Harvard Medical School
Director of Medical Physics Research, Radiation Oncology
Brigham and Women's Hospital and Dana-Farber Cancer Institute
Tom Harris, PhD
Postdoctoral Researcher
Tom is an ABR-certified medical physicist whose clinical duties focus on brachytherapy.  His master's research at MIT supported their boron neutron capture therapy program.  He recently received his PhD from Heidelberg University in Germany doing research on a novel electronic portal imaging device.
Matt Jacobson, PhD
Instructor
Matt is specializing in inverse problems for tomographic image reconstruction. He obtained an MSc from the Technion – Israel Institute of Technology under the supervision of Nahum Shimkin and Adam Shwartz, and PhD from the University of Michigan under the supervision of Jeff Fessler. With over 15 years of industry and academic experience, Matt's research interests include dose-efficient image reconstruction methods for PET and CT, patient motion tracking and compensation, novel geometries and calibration methods for tomographic systems, and accelerated 3D iterative reconstruction. Most recently, his work has focused on CBCT image guidance for radiation oncology.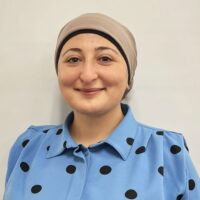 Zeinaf Muradova, PhD
Postdoctoral Researcher

Zeinaf completed her PhD in Oncology from the University of Paris-Saclay, France in 2021. Her research focused on the impact of gadolinium-based nanoparticles in combination with radiation therapy on macrophage activation. She joined the Berbeco Lab in February 2022. Her current research focuses on the ability of gadolinium-based nanoparticles to push an innate immune system toward a trained immunity, and consequently improve cancer immunotherapy.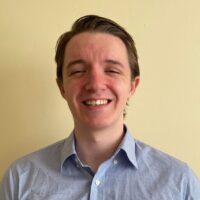 Toby Morris
Doctoral Candidate
Toby is a graduate student studying his PhD in Medical Physics at the University of Massachusetts, Lowell. He is currently investigating the effects of nanoparticle irradiation on infiltrating lymphocyte populations. This involves establishing a predictive mathematical framework based on existing data, followed by application to mouse and human models. Toby's main interests lie in the use of nanoparticles for radiation therapy enhancement, in both a computational and pre-clinical framework.
Stephanie Bennet, PhD
Postdoctoral Researcher
Stephanie completed her certificate in Medical Physics at Dalhousie University, Halifax, Canada and, just prior, her PhD in Electrical and Computer Engineering at Carleton University, Ottawa, Canada. Her PhD focused on the automated extraction of patient vital signals from thermal and visible-light video using spatio-temporal signal processing. Her current research focuses on the detection, quantification, and characterization of gadolinium-based nanoparticle uptake in tumors from MR scans.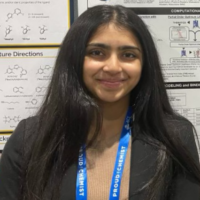 Khushi Gandhi
Undergraduate Researcher
Khushi is a research lab trainee at the Berbeco Lab through the CaNCURE Program, studying the effects of Albumin-Gadolinium-Diethylene Triamine Pentaacetic Acid-Polyethylene Glycol-coated Iron Oxide nanoparticles in pancreatic cancer clinical trials. She is an undergraduate student at Northeastern University majoring in biochemistry and is on the pre-medical track.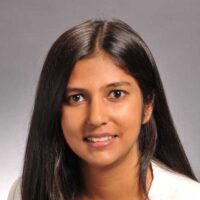 Needa Brown, PhD
Faculty at Northeastern University
Needa  joined the Berbeco lab in October 2017, working on the use of gold and gadolinium-bismuth nanoparticles for targeted vascular disruption radiation therapy, as well as studying the physiological effects occurring within the tumor post-therapy, specifically the hypoxic response. She is now a faculty member at Northeastern University.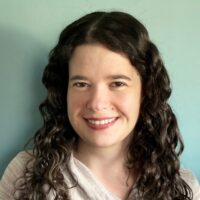 Romy Guthier, PhD
Faculty at UMass-Lowell
Romy joined the Berbeco lab in February 2021, focusing on vascular disruption by gadolinium nanoparticles during radiation therapy.  Romy also lead the dosimetry and quality assurance for our pre-clinical image-guided irradiator. She is now a faculty member at University of Massachussets, Lowell.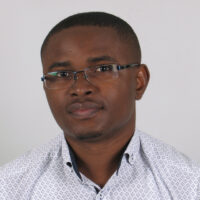 Ikechi Ozoemelam, PhD
Physics Resident at University of Michigan
Ikechi joined the Berbeco lab in September 2021 to conduct research into development of novel multi-layer kV/MV flat-panel detectors for advanced on-board radiation therapy imaging. A key aspect of Ikechi's work was using Monte Carlo simulations for optimization of x-ray detector design as well as the experimental characterization of detector performance. He is now a physics resident at the University of Michigan, Ann Arbor.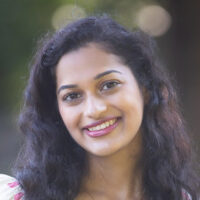 Meghna Iyer
Medical Student at William Beaumont
Meghna was a research trainee at the Berbeco Lab through the CaNCURE Program, studying the effects of silica-based bismuth gadolinium nanoparticles in vascular disruption, immune responses, and as a contrast agent in MRI. She is now a medical student at William Beaumont Medical School.