TREATMENT VERIFICATION AND REAL-TIME ADAPTATION WITH BEAM'S-EYE-VIEW (BEV) IMAGING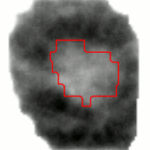 Our group is developing new techniques to localize tumors during radiation therapy using beam's-eye-view (BEV) imaging. The BEV images show the internal anatomy that is being treated, while it is being treated. By using the treatment beam itself, we essentially get the information for free; no additional radiation is delivered to the patient and tumor localization is verified while the treatment beam is on. We have already used this system for treatment monitoring, verification, delivered dose calculation and adaptation. We have successfully demonstrated dynamic motion of the treatment beam aperture to precisely target the tumor. Current projects include an Academic-Industrial Partnership with Varian Medical Systems, Inc. (R01 CA188446) to design, build and test novel flat-panel imagers.
A PRECISION IMAGE-GUIDED IRRADIATOR FOR PRE-CLINICAL STUDIES
Ross Berbeco, PhD is the Director of Pre-Clinical Physics for a precision image-guided irradiator laboratory for pre-clinical radiation therapy studies. The precisely placed, small aperture therapy beams allow the study of advanced pre-clinical techniques that would be difficult, if not impossible, with conventional tools. This instrument is ideal for translational radiation therapy studies as well as basic science inquiries into mechanisms of DNA repair.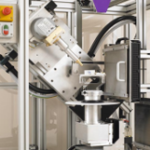 NANOPARTICLES AS VASCULAR-DISRUPTING AGENTS DURING RADIATION THERAPY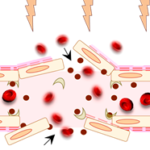 We are investigating the use of high atomic number (Z) nanoparticles as vascular-disrupting agents, when combined with radiation. High-Z materials are attractive for this project due to the relatively high photoelectric cross-section. By specifically targeting the endothelial cells of the tumor vasculature, we anticipate a larger effect than by attempting to distribute the nanoparticles throughout the tumor volume. Our concept should be effective for both low energy (brachytherapy) and high energy (MV) clinical scenarios.
NANOPARTICLES FOR MR-GUIDED RADIATION THERAPY
We are investigating different formulations of ultra-small nanoparticles that can perform as both image contrast and radiation dose amplification agents. This concept is particularly relevant in the context of MR-guided radiation therapy, an emerging clinical technique. Our partners in France, led by Dr. Olivier Tillement, have demonstrated the safety of these nanoparticles in a Phase 1 clinical trial.