NOVEL FLAT-PANEL X-RAY IMAGERS FOR RADIOTHERAPY APPLICATIONS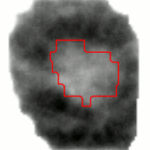 Our group is working on the design, development, testing and clinical translation of novel flat-panel imagers for advanced radiotherapy applications. We are working in both the MV and kV energy ranges and have successfully demonstrated a multi-layer design for increased photon detection and energy separation. This project is currently supported, in part, by an Academic-Industry Partnership with Varian Medical Systems, Inc (NIH/NCI 1R01CA188446).
A PRECISION IMAGE-GUIDED IRRADIATOR FOR PRE-CLINICAL STUDIES
Ross Berbeco, PhD is the Director of Pre-Clinical Physics for a precision image-guided irradiator laboratory for pre-clinical radiation therapy studies. The precisely placed, small aperture therapy beams allow the study of advanced pre-clinical techniques that would be difficult, if not impossible, with conventional tools. This instrument is ideal for translational radiation therapy studies as well as basic science inquiries into mechanisms of DNA repair.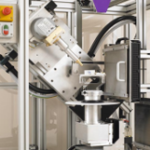 NANOPARTICLES FOR MR-GUIDED RADIATION THERAPY
We are investigating novel formulations of ultra-small nanoparticles that can perform as both image contrast and radiation dose amplification agents. This concept is particularly relevant in the context of MR-guided radiation therapy, an emerging clinical technique. This project is supported, in part, by an Academic-Industry Partnership with NH Theraguix (NIH/NCI 1R01CA240804). One nanoparticle formulation (AGuIX) is in Phase 2 evaluation at the DFCI/BWH (NCT04899908 and NCT04789486).